Here you will find practical resources to implement and report outcomes on Wellness and Reablement delivery in your organisation. We want to collate your success stories as they evolve, from the perspective of service providers and clients of your organisation.
Creating evidence of Wellness and Reablement approaches
Providing "evidence of progress" towards embedding wellness and reablement approaches is a responsibility of all service providers.
Working with and learning from other service providers on how they have gone about it and their stories or evidence of change and positive client outcomes can be very beneficial.
The KeepAble team would love to support service providers in this process by collecting and sharing your stories; whether they come from your organisation, staff or clients and then sharing these so that others can learn from you and your team.
This could include:
What you've introduced in your organisation to support staff to better understand wellness and reablement approaches
How you are supporting staff to work with your clients on their goals
What outcome measures you are using to measure progress
Examples of positive outcomes for your clients and/or your staff
Ways you support clients and their families to understand wellness and reablement
How risks were considered in a positive risk taking environment.
If you are interested in contributing, please register with us and we look forward to hearing more from you.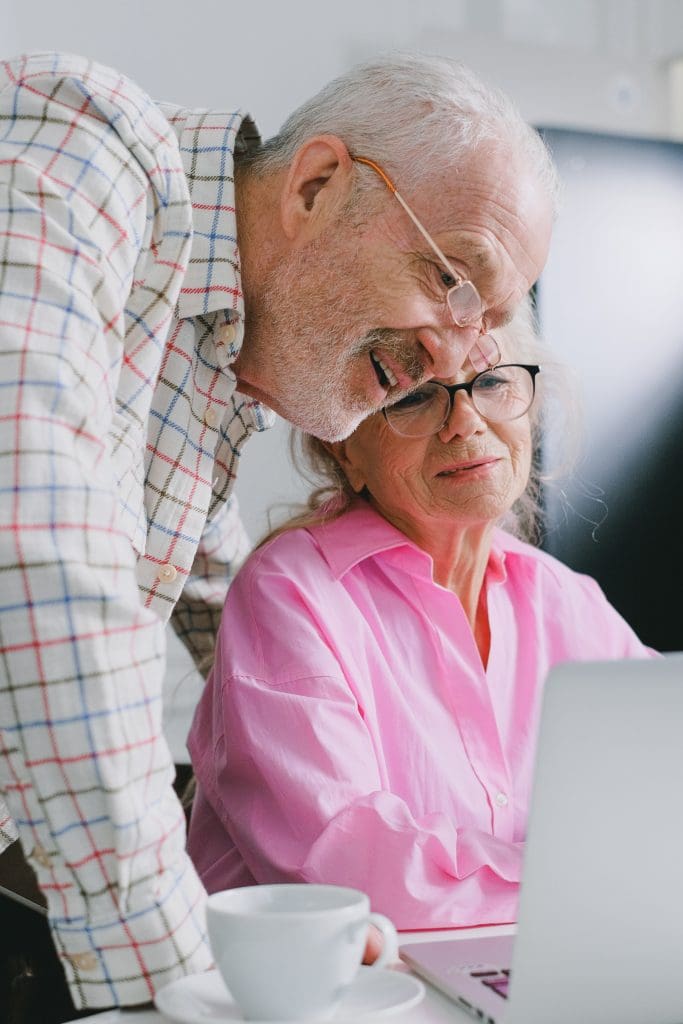 Resources for Home Care Providers
Here are some useful resources to help your organisation deliver Wellness and Reablement.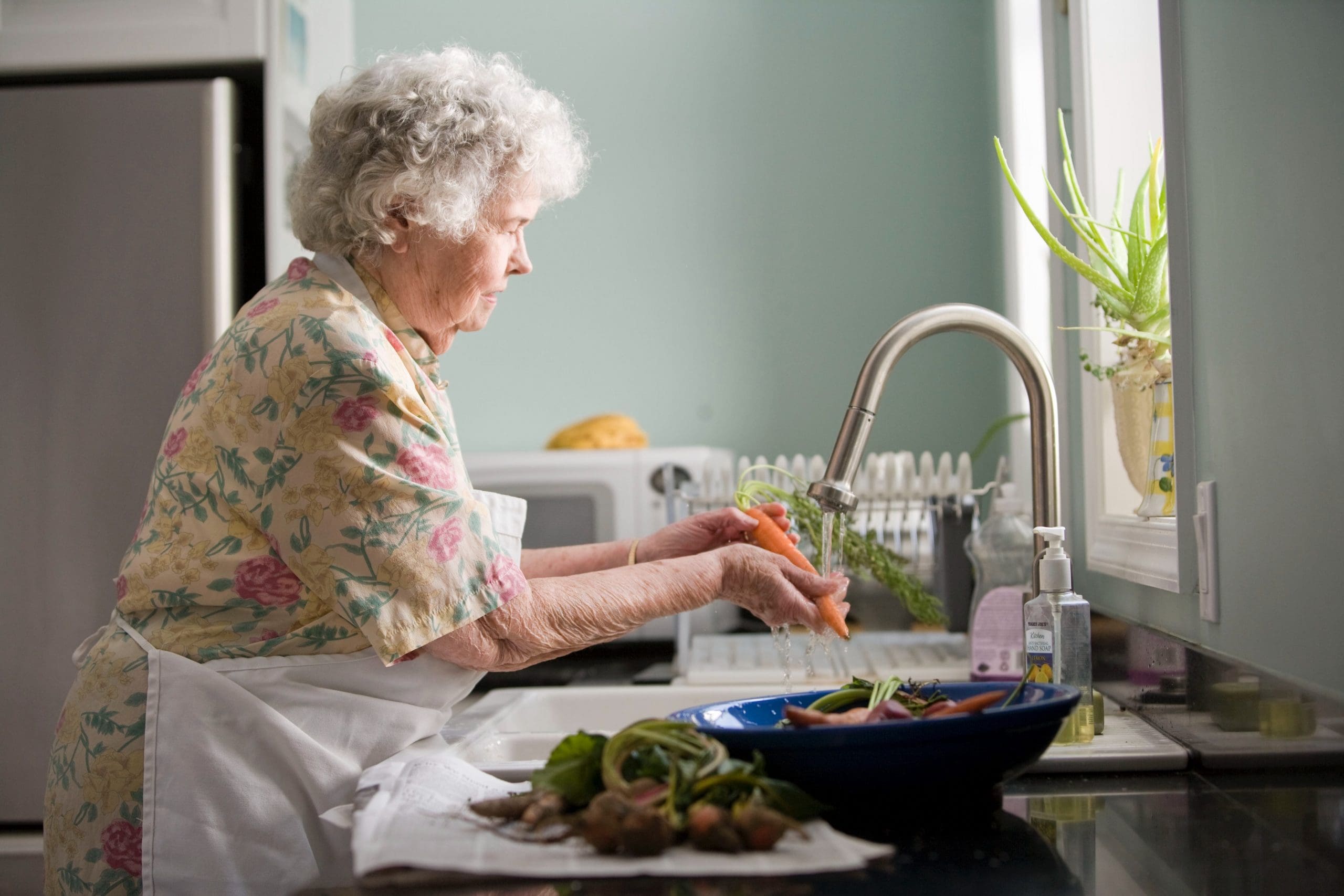 "There is considerable scope to improve quality of life by improving fitness, supporting social engagement, developing creativity, and fostering self-care skills.
Fine 2020
Presentations on Wellness and Reablement
Check out some of the key sector presentations delivered over the past six years. Click an image to review the presentations.
Lidia Conci – Wellness, reablement and purposeful ageing
In this digital presentation, Lidia Conci Managing Director at AvantiCare, asks "What does it (wellness and reablement) really mean for aged care?". There are some valuable insights within for other organisations looking to do the same.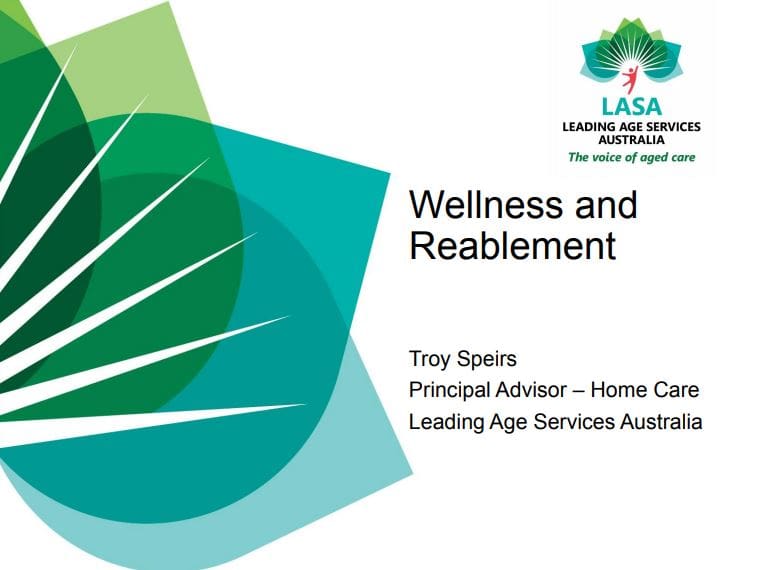 Troy Speirs – LASA 2018
In 2018, LASA's Principal Advisor Home Care, Troy Speirs, delivered an excellent presentation on Wellness and Reablement at their annual conference. Starting by describing the why of Wellness and Reablement and concluded by discussing the responsibilities of service providers in working towards approaches of delivery. Download the PDF of his presentation here.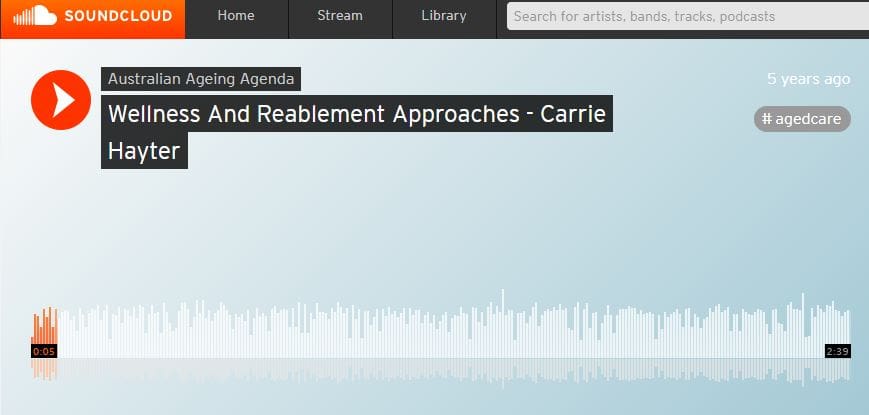 Carrie Hayter – Active Ageing Conference 2015
Listen to Carrie's podcast presentation at the 2015 Active Ageing Conference, where Carrie suggests that service providers needed to engage with research when developing and implementing Wellness and Reablement approaches, and be clear about the benefits to clients who may reject the concept, or not understand what it meant. Click to hear the podcast.
Australian Government Perspective
Review some of the documentation which has helped shape the Australian Governments Wellness and Reablement initiative.
Commonwealth Home Support Programme (CHSP) Manual 2022-2023

This manual is for service providers who work with the Commonwealth Home Support Programme (CHSP). It provides guidelines to the sector on how to deliver the CHSP program and covers service provider and departmental responsibilities. The latest version was published in July 2022.

Living well at home: CHSP Good Practice Guide

Service providers are expected to adopt a wellness approach in their service delivery practices. This guide explains what good practice looks like in-home support services, and what organisations and individual workers can do to successfully adopt these approaches. Review and download the document by clicking here.
Policy and research resources
Find updated policy and research evidence here. Click each heading to find out more.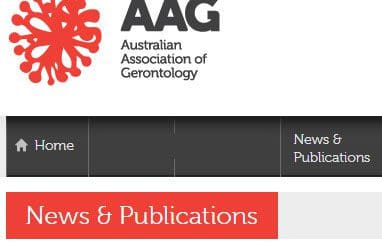 Working towards evidenced-based reablement approaches
AAG is playing a lead role in unpacking the different research and policy perspectives, through working towards a consistent and coherent framework for wellness and reablement. A series of six fact sheet were produced, with this being the first.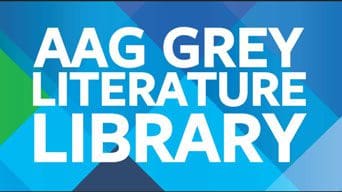 AAG Grey Literature Library
Make use of the Australian Association of Gerontology's (AAG's) Grey Literature Library to broaden and review your knowledge via resources that exist outside of usual academic sources. It provides you with the opportunity to engage with a catalogue of relevant policy, webinars, fact sheets and reports.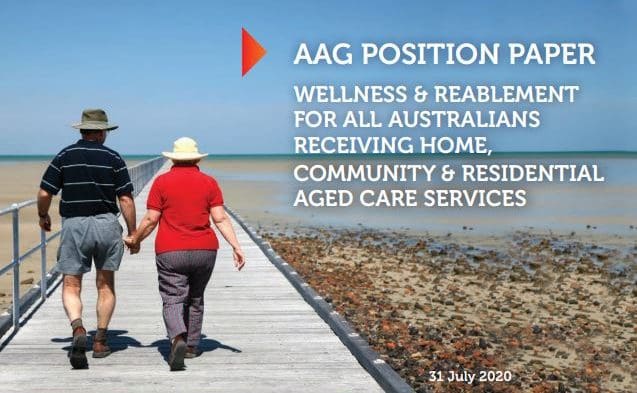 AAG Position Paper: Wellness and Reablement
On 31 July 2020, AAG published its Position Paper: 'Wellness and Reablement for all Australians receiving home, community, and residential aged care services'. The aim is to provide clear direction to the Australian Government, policymakers and service providers on the core principles of wellness and reablement in aged care that must be upheld in order to meet the needs, strengths, and preferences of Australians as they age.